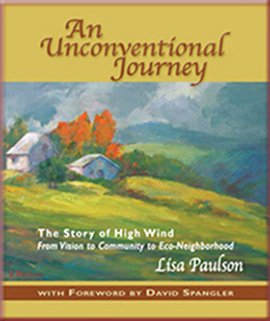 An Unconventional Journey
by Lisa Paulson
An Unconventional Journey
gives voice to the nearly universal yearning for connection that people are feeling today. In the face of increasing hardships on many fronts, we feel an urgency to join together for mutual support to satisfy our material and psychological needs. We yearn for the sense of safety and solidarity that feeling part of a community offers. Author Lisa Paulson not only documents the development of High Wind, an experimental "intentional community," but she also describes the related attempts of groups through the ages to create more workable societal strategies. From early on, Lisa Paulson has looked beyond the mainstream and felt compelled to challenge status quo trends and values. She sees the imperative for different cultures to stand thoughtfully in each others' shoes. She recognizes that a sustainable way of life is best realized in the cooperation of groups such as "intentional communities"—relatively manageable entities whose members try to live out a particular vision. In
An Unconventional Journey
, Lisa Paulson captures the accomplishments and the disappointments, the successes and the challenges, of living as part of an intentional community. Through words, as well as through twenty-seven annotated photo spreads, she tells the story of her own unconventional journey that resulted in the creation of High Wind, the development of this unique community, and the lessons that can be learned from it.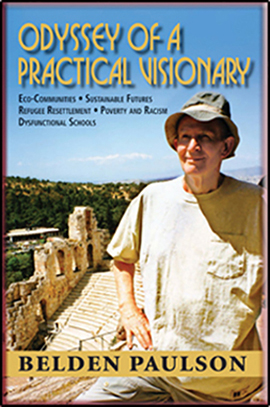 Odyssey of a Practical Visionary
by Belden Paulson
Odyssey of a Practical Visionary
is the story of Belden Paulson, whose life has been dedicated to building a better world politically and economically. Shortly after graduating from college, Belden Paulson jumped into postwar reconstruction work with homeless cave dwellers in Naples, co-founding Italy's first social settlement center providing medical, food, and educational services. He then worked to resettle Iron Curtain refugees on the island of Sardinia. In the 1960s, Belden organized the first department in the University of Wisconsin to address inner-city poverty and racism. In recent years, he focused on the long-range imperatives for our culture, teaching courses on "alternative futures" and organizing many practical projects. With his wife Lisa, Belden co-founded the High Wind intentional ecological community. All these distinct "careers" — international, urban, futures— reflect a recurring theme: tackling problems that others often called "hopeless," sometimes with surprising results.
This book is a fascinating and compelling memoir of unique experiences and brave experiments—pointing the way to a better future for the human family. It details bottom-up, small scale, hands-on projects of someone who knows the "conditions on the ground." The descriptions of the events are infused with thoughtful reflection; their meaning and significance are placed into the big picture of an important era in U.S. and global history. This memoir offers practical models on a range of critical problem areas and to build a sustainable world. Belden's creative idealism offers useful examples for young and old of what it takes to move a seed idea toward implementing transformational values in a world that desperately needs them but is loath to embrace them. Odyssey of a Practical Visionary demonstrates an unshakeable belief in the human spirit.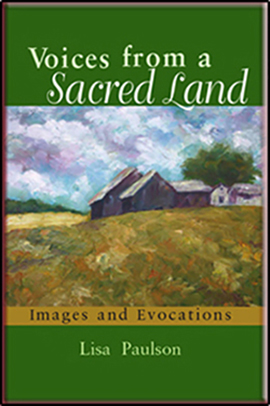 Voices from a Sacred Land by Lisa Paulson
While chronicling the history of High Wind, an experimental ecological community developed with her husband Belden Paulson, Lisa Paulson was drawn to the documents that described the land itself. Whether moving through daily tasks or welcoming visitors who came to High Wind for both practical and philosophical explorations, Paulson found that it was the powerful, enchanting, healing presence of nature itself that deeply influenced all she felt and did. This realization compelled her to interrupt her research on High Wind to record her own and others' responses to the land she had grown to love and cherish. This poetic collection of writings, enhanced by four-color photographs and paintings, will increase your appreciation of nature and expand your awareness of the central role of the natural world in our lives.
Author Lisa Paulson writes: "In Voices from a Sacred Land, I decided that I simply had to express my own intense love of this land, this sacred land, by writing about it . . . I needed to share the collected experiences of the High Wind meadows and woods and hills as we cycled through the seasons and years."