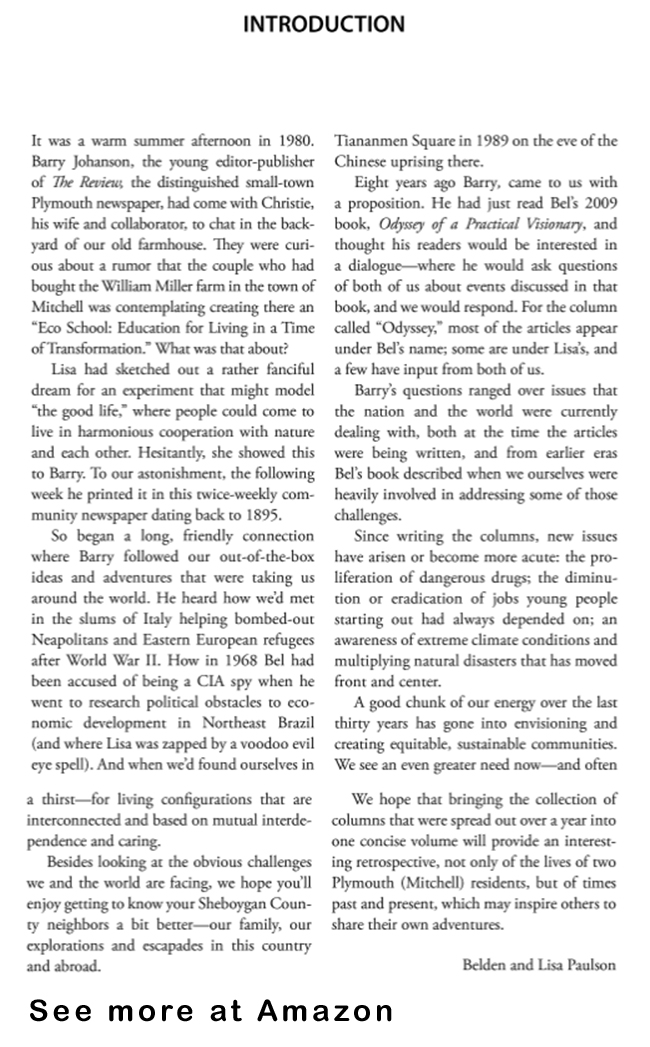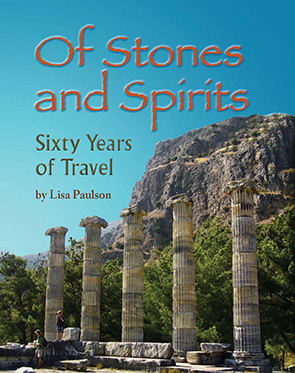 Excerpts from —
Of Stones and Spirits: 60 Years of Travel
by Lisa Paulson
Periodically, I'll be posting excerpts from my new book, "Of Stones and Spirits." Here is the first. It describes my 1952 arrival in postwar Naples where I would meet my future husband; he hired me to help alleviate the suffering of homeless Neapolitans.
"It's already dark when Annie and I step off the Rome-Naples train. Armed only with our knapsacks and Bel Paulson's name, we start off on foot to find Casa Mia. The so-called streets where supposedly the center is located, have no names. We'd heard that Naples is the roughest spot in Europe, but one has to see it to realize what this means. Because Granili stretches right along the waterfront docks, it was just about flattened by both German and American bombers in the war. Some twenty thousand homeless people are living (and dying) here in caves, grottos, and crevices in the crumbling walls. We pass two children, ages four or five, kneeling on the ground nursing a tiny fire built from a few scraps of paper, a pathetic effort to keep warm for a brief moment. Old people crouch among the stones, watching us curiously, or staring at nothing—people with no place to go, The luckier ones have found 'homes' in the ghostly ruins of buildings standing jagged against the sky."

"Despite the misery we witnessed and worked with daily, Bel made sure there was periodic relief from these horrific realities.... I have not yet seen the famous downtown waterfront area of Naples, so one evening Bel suggests a walk along Santa Lucia, the great, beautiful curve of bay around which the city lies....Thousands of lights blink along the shore and are banked up the hills that rise behind. Off to the south, the great shadow of Vesuvius is just visible, leaning protectively over us....Strolling on Santa Lucia there is almost perfect silence, just the gentle slapping of water on the rocks and an occasional splash as a fisherman in a rowboat adjusts his lines. Dozens of these boats rock quietly at anchor, some with little one-man shacks built in, glimmering faintly. On this hazy, warm night, the world seems to drop off some fifty feet out. The soft darkness of the water blends without horizon into sky, illuminated only vaguely by a misty moon. A little boy runs out, urgently pushing a drooping flower into our faces, hoping for a cigaret in return. There's a muffled laugh from two drivers of horse-drawn carriages as they huddle under their blanket. The clacking of a tram grows to a roar, and then fades off again into the lonely night. Yet even in this main square, it seems an empty peace, suffering Naples having crawled into its miserable huts and holes, out of sight."

Part of our Naples job was assistance to refugee camps housing escapees from Eastern Europe. "We were told of a case in one of the camps where a tubercular mother threw herself under a train as the only solution. She'd been trying for several years to emigrate. Her husband was cleared to go, but she, having TB, could not, and, by law, the children have to remain with the mother. So by killing herself, she freed the rest of the family to leave."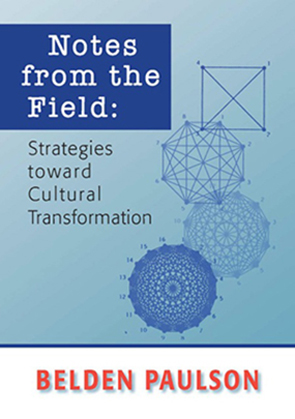 Excerpts From —
Notes from the Field: Strategies toward Cultural Transformation
by Belden Paulson
First - a little background:
What will people remember about you after you check out? What were you really like? Maybe a few special adventures? A couple years after teaching my last seminar, I began sorting out all my old papers from years of university and overseas work. I unearthed a small book about my distant ancestor, William Henry. Born in 1729 in PA, with parents who came from Ireland and Scotland, he ended up a gunsmith for Washington's army in the Revolution, and much else. If I'd never met William Henry now, I'd have missed a fascinating family detail. I decided to sit down and write a long letter to my four grandchildren. Since they're young and occupied with school, this would be for a future rainy day when they might ask: who really was my grandfather? What was he like and doing in the last half of the 20th century in the prime of his life? How I wish my departed grandparents had written me such a letter. After I finished a few hundred pages, such as how I met my wife in the bombed out postwar slums of Naples Italy, some friends asked me: sounds interesting, can we see it? I continued on, over a thousand pages. It ended up a memoir, published in 2009. After my editor cut down hundreds of pages, I've now ended up with a spin-off, just out—flashes of authentic frontline projects. It's called NOTES FROM THE FIELD: STRATEGIES TOWARD CULTURAL TRANSFORMATION.

When I was a grad student at the University of Chicago, I'd return home late most nights with an armful of library books. We lived in the "rabbit patch" of cheap prefabs directly across the Midway. Roaming gangs mugged almost anyone who walked, so I moved at full speed. Since reading lists were horrendously long,I learned to pull out quickly a book's substance w/o reading every line or page. I really appreciated authors who summarized content with short introductions, epilogues and call-outs.Now in gratitude to this memory, one can "get" my new book just by reading my summary introductions, postscripts, and call-outs. For example, there's this call-out in my International Section, when discussing the most illuminating conversation I experienced at the peace conference I attended on the Vietnam war in 1971:
"In an attic on the periphery of Paris, I met a young, still unknown Buddhist monk from Vietnam. Thich Nhat Hanh and I sat cross-legged on the floor, drinking tea."